Total Hip Replacement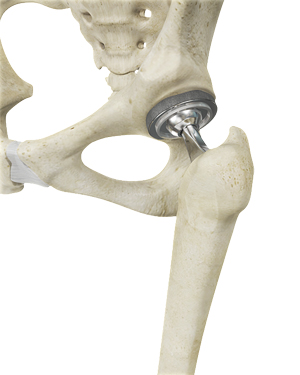 Total hip replacement is a surgical procedure in which the damaged cartilage and bone is removed from the hip joint and replaced with artificial components. The hip joint is one of the body's largest weight-bearing joints, located between the thigh bone (femur) and the pelvis (acetabulum). It is a ball and socket joint in which the head of the femur is the ball and the pelvic acetabulum forms the socket. The joint surface is covered by a smooth articular cartilage which acts as a cushion and enables smooth movements of the joint.
Several diseases and conditions can cause damage to the articular cartilage. Total hip replacement surgery is an option to relieve severe arthritis pain that limits your daily activities.
I think I need a hip replacement. What do I do?
How long does it last?
Are all hip replacement implants the same?
Is surgery and recovery very painful?
What is minimally invasive anterior or posterior surgery?
My surgeon talks about "approach." What is this?
Will my surgeon use a computer, robot, or custom cutting guide in my surgery?
How big will my scar be?
Will I need general anesthesia?
Post-operative care
Risks