Dr. Greg Stackpool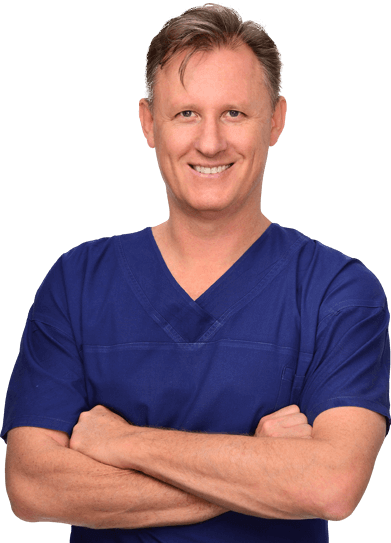 Greg Stackpool is a senior Specialist Hip and Knee Surgeon who has provided Orthopaedic Surgical Services for the Illawarra and the South Coast regions since 2003. He works at the The Wollongong Private Hospital, and The Wollongong and Shellharbour Public Hospitals. He is extensively involved in teaching and training orthopaedic registrars from the Australian Orthopaedic Association Training Programme, junior medical officers, University of Wollongong medical students, and allied health professionals.
He completed his fellowship training in Orthopaedic Surgery in Sydney in 2002, before embarking on a further 12 months subspecialty training in Primary and Revision Hip and Knee Replacement Surgery in Toronto, Canada.
His clinical expertise lies in joint replacement surgery of both the hip and knee and has extensive lower limb trauma experience.
EDUCATIONAL DETAILS (1991)
Medical Registration : N.S.W. Medical Board and Australian Health Practitioner Regulation Agency (AHPRA)
UNDERGARDUATE MEDICAL DEGREE (1992)
Medical Degree – Bachelor of Medicine, Bachelor of Surgery (UNSW)
POSTGARDUATE MEDICAL DEGREE (2002)
Fellowship of the Royal Australasian College of Surgeons (FRACS) – Orthopaedic Surgery
SPECIALTY AREA OF INTEREST (since 2003)
Lower Limb Reconstructive Specialist -
Primary & Revision Hip & Knee Arthroplasty
Sports Knee & Arthroscopy
Advanced Lower Limb Trauma
CURRENT EMPLOYMENT (since 2003)
Private Practice -
Escarpment Orthopaedics & Sports
54 Princes Highway West Wollongong NSW 2500
Public Appointment -
Illawarra Shoalhaven Local Health District VMO Appointment
Hospitals
Wollongong Private Hospital
Wollongong Public Hospital
Shellharbour Public Hospital
CLINICAL FELLOWSHIP TRAINING (2002)
Adult Lower Limb Reconstruction (Primary & Revision Hip & Knee Arthroplasty)
Dr James P. Waddell MD, FRCSC
A.J. Latner Professor & Chairman 
Division of Orthopaedic Surgery
University of Toronto 
St Michael's Hospital
Bond St
Toronto, Ontario M5B 1W8
CANADA
INTERNATIONAL RESEARCH POSITION (1995)
1995 Orthopaedic Research Fellow
Jo Miller Orthopaedic Research Laboratory
Montreal General Hospital 
1650 Cedar Ave 
Montreal, Quebec H3G 1A4 
CANADA
Primary Project - The evaluation and assessment of the bone ingrowth characteristics into porous tantalum
AUSTRALIAN ORTHOPAEDIC TRAINING (1998-2001)
Accredited Australian Orthopaedic
Association Sydney Training Scheme
2001  

The Baulkham Hills Private Hospital 
The Wollongong Hospital

2000  

Prince of Wales Hospital 
St George Hospital

1999

Port Macquarie Base Hospital 
St Vincent's Hospital

1998

Concord Hospital
Liverpool Hospital
AUSTRALIAN HOSPITAL PRE-TRAINING PLACEMENTS (1992-1997)
Non-Accredited Orthopaedic Training
1997 Westmead Hospital
1996 Liverpool Hospital
Non-Accredited General Surgical Registrar (1994)
1994

Wagga Wagga Base Hospital
Sydney Hospital
General Residency Placements (1992-1993)
1993 : RMO1 - St Vincent's Hospital
1992 : Intern - St Vincent's Hospital
POSTGRADUATE EXAMINATIONS
2001 May : FRACS (Orth) – Part II
1998 Nov : Orthopaedic Principles & Basic Science Examination
1996 July : FRACS – Part I (completed all components)
1994 July : FRACS OSCA (Liverpool Hospital)
1993 Nov : FRACS – Part I MCQ Examination
RESEARCH & PUBLICATIONS
Oral Presentations
2012 October "Moderator - Challenges in Hip & Knee Arthroplasty""Bones on the Beach"
Nursing Conference
Wollongong, NSW
2008 July "Computer-Assisted TKA Debate""Bones on the Beach"
Nursing Conference
Wollongong, NSW
2006 Aug "Paediatric Monteggia Fractures"
Kadir, Stackpool, Jansen
AOA - NSW Branch
Annual Scientific Meeting
Sydney, NSW
2006 July "Infection Control in Orthopaedics""Bones on the Beach"
Nursing Conference
Wollongong, NSW
2004 Aug "Minimally Invasive Distal Tibial Plating Techniques"
Ballala, Stackpool, Jansen
AOA - NSW Branch
Annual Scientific Meeting
Sydney, NSW
1998 Oct "Safe, Reliable Instrumentation of the Cervical Spine"
Stackpool, Cummine
Australian Orthopaedic Association
58th Annual Scientific Meeting
Cairns, Queensland
1995 Nov "Bone Ingrowth Characteristics of Porous Tantalum: A NewMaterial for Orthopaedic Implants"
Stackpool, Kay, Tanzer, Harvey, Bobyn
Combined Orthopaedic Research Societies of USA, Japan, Canada & Europe
San Diego, California
1995 May "Bone Ingrowth Characteristics of Porous Tantalum: A NewMaterial for Orthopaedic Implants"
Stackpool, Kay, Tanzer, Harvey, Bobyn
Canadian Society of BiomaterialsOttawa, Ontario
Publications
"Morbidity and in-hospital mortality after hip fracture surgery on weekends versus weekdays"
Kent, Adie, Stackpool
J Orthop Surg (Hong Kong). 2016 Apr;24(1):41-4.
"Effect of Flexibility of the Femoral Stem on Bone-Remodelling and Fixation of the Stem in a Canine Total Hip Arthroplasty Model without Cement"
Harvey, Bobyn, Tanzer, Stackpool
JBJS 81-A (1): 93-107, 1999
"Characteristics of Bone Ingrowth and Interface Mechanics of a New Porous Tantalum Material"
Bobyn, Stackpool, Hacking, Tanzer
JBJS 81-B (5): 907-914, 1999

International Poster Presentations

1997 Feb "Bone ingrowth kinetics and interface mechanics of a porous tantalum implant material."
J.D. Bobyn, G.J. Stackpool, M. Tanzer, J.L. McGowan, S.A. Hacking.
43rd Annual Meeting of the Orthopaedic Research Society
San Francisco
1996 Feb "The effect of prolonged ultrasound stimulation on bone ingrowth into porous tantalum transcortical implants"
Kay, Harvey, Tanzer, Stackpool, Bobyn
42nd Annual Meeting of the Orthopaedic Research Society
Atlanta, Georgia
"Characterisation of bone ingrowth with a unique porous tantalum implant material"
Stackpool, Kay, Harvey, Tanzer, Bobyn
42nd Annual Meeting of the Orthopaedic Research Society
Atlanta, Georgia
POSITIONS/ MEMBERSHIPS
Australian Orthopaedic Association (AOA)
The Royal Australasian College of Surgeons (RACS)
Australian Society of Orthopaedic Surgeons (AAOS)
Orthopaedic Registrar SET Training Supervisor (since 2003) - Wollongong Hospital
Orthopaedic Journal Club Chairman (since 2003) - Wollongong Hospital
University of Wollongong - Clinical Supervisor for Medical Students at Wollongong Hospital (Orthopaedic Rotation)
Alumni University of Toronto
Alumni UNSW
PAST POSITIONS/ MEMBERSHIPS
NSW Branch Committee Member AOA (2015-2017)
Joint Head of Department of Orthopaedic Surgery, Wollongong Hospital (2015-2017)
Orthopaedic Registrar Regional Training Coordinator - Southside Sydney Training Program (2007-2010)
REGULAR CONFERENCES / EDUCATION
Australian Orthopaedic Association (NSW Branch) Annual Scientific Meetings
Australian Orthopaedic Association (AOA) Annual Scientific Meetings
Current Concepts in Joint Replacement (CCJR) - Annual Spring Meeting, USA
Australian Orthopaedic Association (AOA) Annual Continuing Orthopedic Education Meetings