Knee Arthritis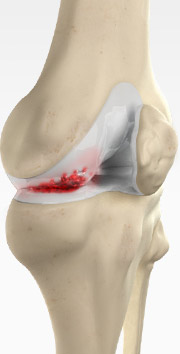 Arthritis is a general term covering numerous conditions where the joint surface or cartilage wears out. The joint surface is covered by a smooth articular surface that allows pain free movement in the joint. This surface can wear out for several reasons; often the definite cause is not known.
When the articular cartilage wears out the bone ends rub on one another and cause pain. This condition is referred to as Osteoarthritis or "wear and tear" arthritis as it occurs with aging and use. It is the most common type of arthritis.
What are the causes of knee arthritis?
What are the symptoms and signs of arthritis?
What do you see with an arthritic knee?