Revision Knee Replacement
Revision knee replacement surgery involves replacing part or all your previous knee replacement with a new prosthesis. Although total knee replacement surgery is successful, sometimes the procedure can fail due to various reasons and require a revision surgery.
Why would my total knee replacement need to be redone?
Surgical procedure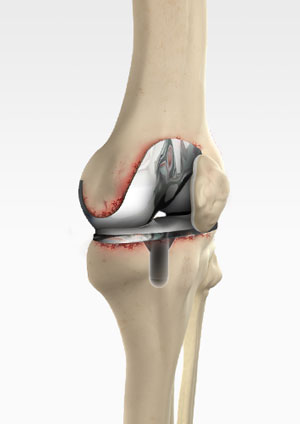 Revision knee replacement surgery may involve the replacement of one or all the components.
The surgery is performed under general anaesthesia. Your surgeon makes an incision over the knee to expose the knee joint. The kneecap along with its ligament may be moved aside so that there is enough room to perform the operation. Then the old femoral component of the knee prosthesis is removed. The femur is prepared to receive the new component. In some cases, the damaged bone is removed and bone graft or a metal wedge may be used to make up for the lost bone.
Next the tibial component along with the old plastic liner is removed. The damaged bone is cut and the tibia is prepared to receive the new component. Like the femur, the lost bone is replaced either by a metal wedge or bone graft. Then, a new tibial component is secured to the end of the bone using bone cement. A new plastic liner will be placed on the top of the tibial component. If the patella (kneecap) has been damaged, your surgeon will resurface and attach a plastic component. The tibial and femoral components of the prosthesis are then brought together to form the new knee joint, and the knee muscles and tendons are reattached. The incision is then closed.
What are some of the risks and potential complications?