Meniscal Tears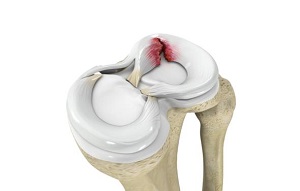 The knee is one of the most complex and largest joint in the body, and is more susceptible to injury. Meniscal tears are one among the common injuries to the knee joint. It can occur at any age, but are more common in athletes playing contact sports. Meniscus tear is the commonest knee injury in athletes, especially those involved in contact sports. A suddenly bend or twist in your knee cause the meniscus to tear. This is a traumatic meniscus tear. Elderly people are more prone to degenerative meniscal tears as the cartilage wears out and weakens with age. The two wedge-shape cartilage pieces' present between the thighbone and the shinbone are called meniscus. They stabilize the knee joint and act as "shock absorbers".
What is the meniscus?
How do you injure the meniscus?
What types of tears are there?
What are the symptoms of a meniscal tear?
How can you diagnose a meniscal tear?
How do you treat a meniscal tear?
What about degenerative and atraumatic meniscal tears?
How do you treat degenerative meniscal tears?
What surgery can be performed for a meniscal tear?