Avascular Necrosis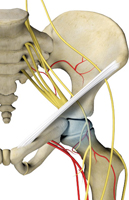 Avascular necrosis, also called osteonecrosis is a condition in which bone death occurs because of inadequate blood supply to it. Lack of blood flow may occur when there is a fracture in the bone or a joint dislocation that may damage nearby blood vessels. Chronic use of high doses of steroid medications and heavy alcohol consumption are the two main risk factors of avascular necrosis. Initially, small breaks appear in the bone that may eventually collapse. The hip joint is most commonly affected; however, the knee and shoulder may also be involved.
What are the symptoms of AVN?
How do you diagnose AVN?
How can you treat AVN?