Osteoarthritis of the Hip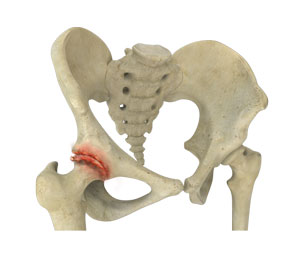 Osteoarthritis, also called degenerative joint disease is the most common form of arthritis. It occurs most often in older people. This disease affects the tissue covering the ends of bones in a joint (cartilage). In a person with osteoarthritis, the cartilage becomes damaged and worn out causing pain, swelling, stiffness and restricted movement in the affected joint. Although osteoarthritis may affect various joints including hips, knees, hands, and the spine, the hip joint is most commonly affected.
Osteoarthritis is characterized by damaged articular cartilage, the cartilage lining the hip joint. Increasing age is one of the most common reasons for osteoarthritis of the hip. You may also develop osteoarthritis if you had hip injury or fracture in the past, if you have family history of osteoarthritis, suffering from hip diseases such as avascular necrosis and other congenital or developmental hip diseases.
How do you diagnose osteoarthritis of hip?
How do you manage of hip osteoarthritis?